by in Dealing with Crisis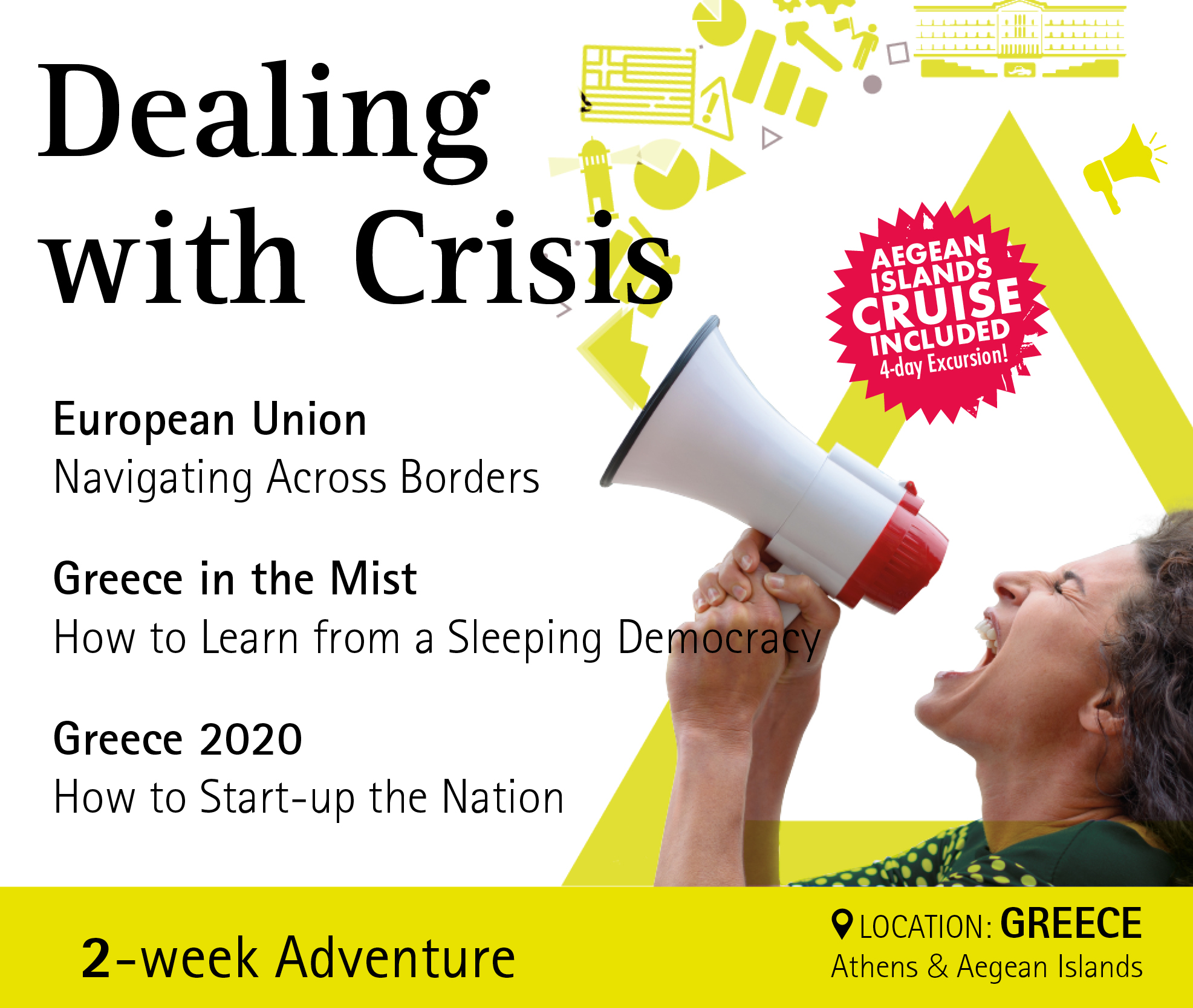 The case of the Greek economic and social crisis is globally unique.
Analyzing this specific crisis and learning from the "rights" and "wrongs", the "musts" and "should nots", will strengthen your judgment and improve your decision-making ability.
This Adventure is not a "how to get out of the crisis" guide. Instead, it is about how to rebuild the necessary platforms that jumpstart a nation.
Upon arrival at the airport, our team will be there to greet you and welcome you to mythical Greece. You will attend the Welcome Reception and Orientation, which will officially signal the beginning of your two-week Adventure.
During the next seven days, you will attend interactive lectures, engage in vibrant discussions, meet inspiring instructors and special guests, and visit unique sites. Combining hands-on learning and cultural immersion, this learning experience will challenge your mind and introduce you to a new way of thinking.
In the following four days, you will embark on a cruise and explore the Aegean Archipelago, visiting six majestic islands. During this time, you will work on your group projects while having fun under the Greek sun, traveling turquoise waters, lapping against white sandy beaches.
Upon your return to Athens, you will experience "Athens' City Beat". Take your time to appreciate this modern metropolis which lives the moment and delights your senses.
Your Adventure concludes with the "Pitch Session". During this session, you will present your projects, gain valuable feedback, and receive your Delta Report, that highlights your leadership potential and sketch your career path.
In the end, we collectively gather our thoughts, reflect on the experiences we lived, and realize that we have taken yet another step on the journey to becoming citizens of the world.
Navigating Across Borders
Interested in understanding Europe?
Then join this Adventure and learn about the European Union's history, set-up, processes, and institutions.
EU Experts will guide and advise on how to operate as an EU and a non-EU citizen, and how to conduct business across European boundaries.
Topics to be explored:
Historical Background of the European Union (EU)

EU Member-State Key Characteristics

EU Governance Bodies

Structural Differences between the EU and the USA

Living, Studying, Doing Business in the EU
Key sites to be visited:
EU Representation Office in Athens

EU Member-State Embassies in Athens

Athenian Trilogy: The University – The Academy- The Library

Numismatic Museum of Athens

Acropolis & the Acropolis Museum
How to Learn from
a Sleeping Democracy
There are a lot of news, facts, and figures about Greece in the media.
Those that are interested in learning about the "lived" reality should join this Adventure and discuss decisions and the multiple "rationales" underpinning them that led the country to go "overboard".
Topics to be explored:
Greek Political System and Society

Structure and Performance of the Greek Economy

Greek Crisis Impact on Society

Greek Crisis and the Role of International Donors and the European Union
Key sites to be visited:
Athens Stock Exchange

Ministry of National Economy

Refugee Crisis-Related Facility in Athens

Industrial Zone Tour

National Archaeological Museum
How to Start-up the Nation
In this living laboratory, we use the Greek Crisis as the bedrock to rebuild the country.
We look at global competitiveness indices and help shape propositions for a sustainable turnaround.
You will learn how to apply scenario thinking and create alternative strategies at the country level.
Topics to be explored:
Country Competitiveness Indices: The case of Greece

Pillars for the Greek Rebound

Greek Diaspora

Scenario Planning for the Greek Rebound
Key sites to be visited:
Greek Parliament

Maritime Cluster of Piraeus

Hellenic Federation of Enterprises

Christian & Byzantine Museum
Embark on a journey of a lifetime as you cruise along emerald waters visiting enchanting destinations and watch iconic postcard images come to life. Swirling windmills, striking cliffs, and legendary ancient cities greet you at every destination.
During the four-day cruise, which is included in the Adventures in Greece, you will also be able to work on and finalize your group assignment while visiting related sites at six breathtaking islands, each with its own rich history and distinctive culture.
Athens, so old, yet so fresh! Athens has always been voted as one of the most exciting places to visit worldwide. Besides its awe-inspiring historical nature, the capital is brimming with creative energy, as a new wave of artists and entrepreneurs are reinventing the city.
Key sites to be visited:
Historical city center: Plaka, Monastiraki, Psyri, Thission

Athens Riviera

Odeon of Herodes Atticus, the prime location of the world-renowned Athens Festival; witnessing a performance here is an unforgettable experience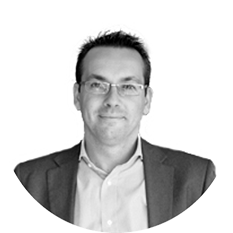 Antonis holds a BA in International and European Studies, an MA in International Law and Diplomatic Studies, and a PhD in Diplomatic History. He is the Academic Coordinator of the Centre of International and European Political Economy and Governance at the University of Peloponnese. He is an Adjunct Lecturer at the Department of International, European and Area Studies of Panteion University of Social and Political Sciences, and at the School of Humanities of the Hellenic Open University. He is also a Visiting Lecturer at Neapolis University Pafos (Pafos, Cyprus).
In the past, he has taught at the Department of Political Science and International Relations of the University of Peloponnese, and at the School of Humanities of the Open University of Cyprus. In 2014, he was a Visiting Fellow at the Wilfried Martens Centre of European Studies (Brussels, Belgium). In 2015, he worked as an Expert at the Committee of the Regions of the European Union, being responsible for drafting the Committee's Opinion on the new European Neighborhood Policy.
He has participated in numerous academic conferences. He is the author of many papers which have been published in international academic journals and in contributed volumes. His latest book under the title An Unholy Alliance: The European Far Right and Putin's Russia was released in English in 2015.
---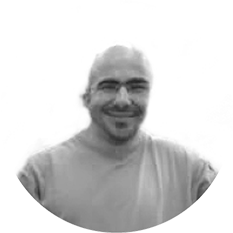 Dimitri holds an MA degree in China Studies from the National Chengchi University, an MA in Political Science and Sociology from the National & Kapodistrian University of Athens and a BA degree in Political Science and History from Panteion University of Social and Political Sciences, Athens. He is currently pursuing his PhD in Political Science at the University of Utah.
Dimitri has worked as a political analyst at the Konstantinos Karamanlis Institute for Democracy. His duties included creating internal memos on Greek and EU politics based on daily news and public opinion surveys, updating the database of national and local election results in Greece since 1974, writing commentaries on Greek and European politics, especially in the wake of the EU sovereign debt crisis and guiding undergraduate political science students during their internships.
He also participated in EU-funded projects of the Institute and represented the Institute in international meetings. He has been a member of the Working Group on International Relations, Foreign Policy & Defense.
He is currently a Research Associate at the Hellenic Foundation for European & Foreign Policy, where he joined the ELIAMEP Asian Studies Programme.
The Adventure fees are all-inclusive 1 and cover the following:
Luxury hotel accommodation 2
4-Day Premium Cruise to the Aegean Islands
Events held at the hotel and at the premises of host organizations
Full medical and travel insurance coverage
Local transportation with VIP vans
A tablet, yours to keep, preset with all relevant Αdventure content
Breakfast at the hotel, lunch and dinner at select restaurants
Admission fees for all site visits
English-speaking group leaders, guides and facilitators
Prescience personalized local gifts, T-shirts, backpacks, etc.
Daily activity updates to parents, upon request
---
1excludes inbound/outbound airfare
2fees are based on double occupancy
Certificate of Completion
Digital Badges for your participation and performance, to be shared across social networks
Credits, based on a 96-contact hour Αdventure, subject to the policy and requirements of your institution
The "Delta Report", which highlights your leadership potential and shapes your career plan
Access to our personalized "Prescience Career Advisory Services"
Access to our "Deltonian Network" of professionals, academics, peers, and like-minded leaders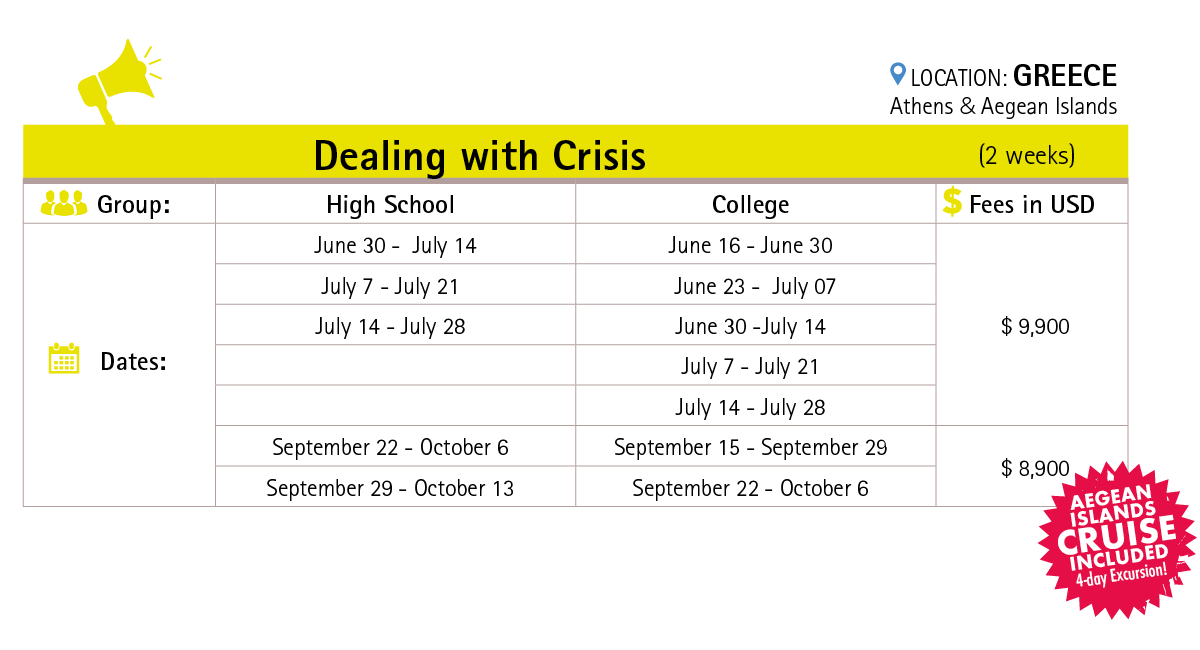 Note: Although the Prescience Adventures are the same for our high school and college participants, the delivery and emphasis is adjusted to reflect the objectives of our participants. High School and College participants form different and distinct groups which follow their own itinerary.
At the high school level, studying abroad indicates independence, motivation, and a desire to have new experiences and meet new people. For our high school participants, Prescience Adventures are geared more towards gaining new skills and knowledge with the potential to shape their individual goals and directions. High School participants learn about topics of interest to them, while at the same time are immersed in the culture of the country they are visiting and having FUN! This experience will strengthen their college applications; but even if their path after high school leads to travel, the military or joining the workforce, the Prescience Adventures will provide them with the confidence and global perspective that will benefit them in any future endeavor.
While the cultural immersion component is still strong, for our college level participants, there is more of an emphasis on what overseas study can do for their CAREER progression. The locations and curriculum for the Prescience Adventures are specifically tailored to the issues and objectives reflected in the Adventure. College level participants learn how to navigate uncertainty, maximize opportunity, and pursue the career and life they want. In other words, they learn how to make "work" work for them.
To Join this Adventure:
Select your Age Group
Select the available Dates
Pay the Deposit
Group
College
High School
Dates
Period 1 (Jun 16 - Jun 30)
Period 2 (Jun 23 - Jul 07)
Period 3 (Jun 30 - Jul 14)
Period 4 (Jul 07 - Jul 21)
Period 5 (Jul 14 - Jul 28)
Period 6 (Sep 15 - Sep 29)
Period 7 (Sep 22 - Oct 06)
Period 8 (Sep 29 - Oct 13)
Clear selection