by in Developing Cultural Intelligence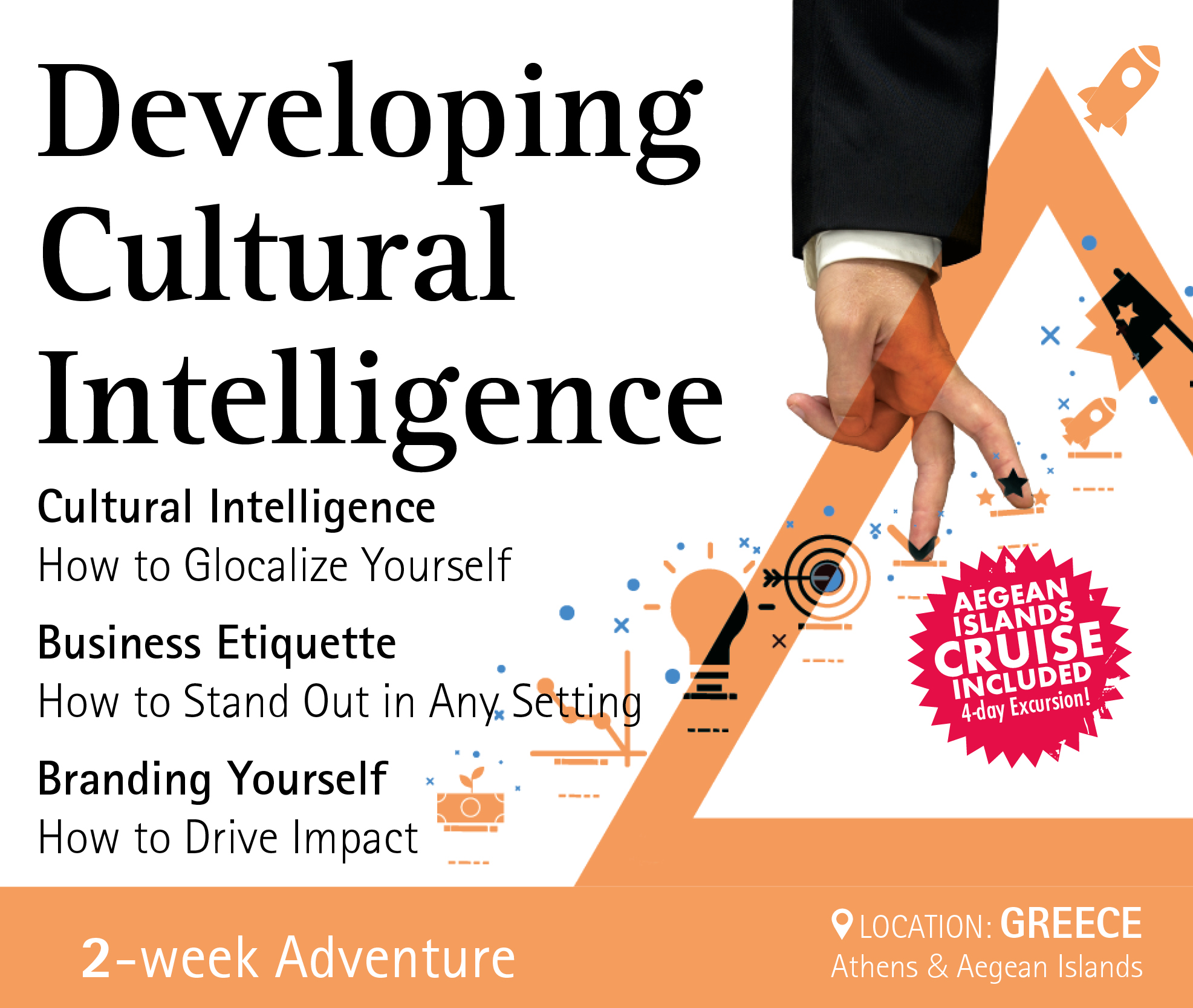 Developing
Cultural
Intelligence
Embark on an immersive personal development journey by enhancing your cultural intelligence, applying useful business etiquette rules, and learning how to brand yourself!
Upon arrival at the airport, our team will be there to greet you and welcome you to mythical Greece. You will attend the Welcome Reception and Orientation, which will officially signal the beginning of your two-week Adventure.
During the next seven days, you will attend interactive lectures, engage in vibrant discussions, meet inspiring instructors and special guests, and visit unique sites. Combining hands-on learning and cultural immersion, this learning experience will challenge your mind and introduce you to a new way of thinking.
In the following four days, you will embark on a cruise and explore the Aegean Archipelago, visiting six majestic islands. During this time, you will work on your group projects while having fun under the Greek sun, traveling turquoise waters, lapping against white sandy beaches.
Upon your return to Athens, you will experience "Athens' City Beat". Take your time to appreciate this modern metropolis which lives the moment and delights your senses.
Your Adventure concludes with the "Pitch Session". During this session, you will present your projects, gain valuable feedback, and receive your Delta Report, that highlights your leadership potential and sketch your career path.
In the end, we collectively gather our thoughts, reflect on the experiences we lived, and realize that we have taken yet another step on the journey to becoming citizens of the world.
Cultural Intelligence
How to Glocalize Yourself
Have you ever wondered why you should avoid wearing yellow in China or how pants become trousers in the UK?The ways in which we all act and communicate are expressions of our own culture, beliefs, and biases. The different national cultures often create blind spots and build walls of miscommunication.
This highly interactive Adventure is designed to equip you with the necessary cultural empathy to seamlessly operate on the global scene. You will familiarize yourself with the cross-cultural "dos" and "don'ts", learn how to avoid "culture shocks" and become culturally intelligent and adapt across the world.
Topics to be explored:
Cultural differences between Greeks and Americans

Analysis of the World's Cultures

Categorization of the World's Cultures

Cultural Adaptation

Best Practices for Developing Cultural Intelligence

Global Leadership Skills

Doing Business Outside the U.S.
Key sites to be visited:
Acropolis & the Acropolis Museum

EU Member – State Embassies in Athens

Athenian Trilogy: The University – The Academy- The Library
Business Etiquette
How to Stand Out in Any Setting
You never get a second chance to make a first impression!
How you conduct yourself, pitch, meet and greet will have a pivotal impact on your career.
This Adventure maps out essential components of business etiquette. It shows you how effective you can be with different audiences. It helps you build a personalized presence that will fit your goals and career strategy.
Topics to be explored:
Business Conduct
Communication Skills & Etiquette
Dress Code & Dining Etiquette
Traveling Etiquette
Hosting Guests & Representation Etiquette
Customer Service Etiquette
International Protocol
Business Networking
Key sites to be visited:
National Archaeological Museum
Global Management Consulting Company
Multinational Telecommunications Company
Central Bank of Greece
Branding Yourself
How to Drive Impact
Do you want to become the protagonist in your life story?
To do so you must learn how to differentiate yourself by strengthening your skills and abilities in the physical and digital worlds.
This Adventure is a step-by-step guide for your career strategy, starting from college, moving further into academia or the business world.
Topics to be explored:
Career Objectives Setting

Personal Branding in Physical & Digital Spaces

Career Strategy Formation

Personal Communication Plan & Networking

Personal Reputation Crisis
Key sites to be visited:
Christian & Byzantine Museum

Greek Parliament

News & Media Company

National Theater of Greece – Acting Lab
Aegean Islands Paradise

Like No Other
Embark on a journey of a lifetime as you cruise along emerald waters visiting enchanting destinations and watch iconic postcard images come to life. Swirling windmills, striking cliffs, and legendary ancient cities greet you at every destination.
During the four-day cruise, which is included in the Adventures in Greece, you will also be able to work on and finalize your group assignment while visiting related sites at six breathtaking islands, each with its own rich history and distinctive culture.
Athens City Beat

A Must-Live Experience
Athens, so old, yet so fresh! Athens has always been voted as one of the most exciting places to visit worldwide. Besides its awe-inspiring historical nature, the capital is brimming with creative energy, as a new wave of artists and entrepreneurs are reinventing the city.
Key sites to be visited:
Historical city center: Plaka, Monastiraki, Psyri, Thission
Athens Riviera
Odeon of Herodes Atticus, the prime location of the world-renowned Athens Festival; witnessing a performance here is an unforgettable experience.
Yiannis, has more than 30 years of experience in the field of international commerce.
During his international career, Yiannis, has authored 7 books and countless articles in the fields of marketing, trade exhibitions, negotiations, international commerce and cultural intelligence.
He regularly advises the International Trade Center (ITC).
During his tenure as General Director of the Hellenic Foreign Trade Board he has visited and negotiated with high level officials from the public and private sectors in more than 50 countries around the world.
Yiannis, holds a BSc in Commerce from the Athens University of Economics and Business, Greece and a PhD in Entrepreneurial Economics from the University of Vienna, Austria.
---
Alexandra is a Senior partner of Synolic ® Development Systems Ltd, and manager of nlpgreece®. She is established as an expert in designing and implementing customized interventions for self-leadership and agility for personal excellence and professional proficiency in Greece, Cyprus, Arabic countries, Balkan countries and USA.
With a Master's degree in Social Science from the UK and a Ph.D in Human Resource Management from the USA, she served as a key contributor of the Synolic® Human Resource Development Model by Alan Barratt and D. Patrick Georges, British management journal Executive Development, Vol. 8, No. 2, June 1995.
Global Master Trainer in Neuro Linguistic Programming, she cooperates with NLP University, Santa Cruz California, and she further contributed to the Synolic ® model 's enrichment by combining it with the NLP system application for studying & approaching the human potential in a systemic way to re-source potential, fine tune unique talents, and achieve performance optimization .
An active member of the Global Training, Consulting Organization, European Board of NLP (EBNLP), Research & Recognition Board, the American Board of NLP (ABNLP), she serves the appropriate contextualization of the NLP platform of techniques into the different fields of application (i.e. Professional development and business approaches, innovative methodologies in counseling and education). She cooperates with Dilts Strategy in applying the innovative Success Factor Modeling™ SFM™ approach in ventures, new roles, and projects.
She is the author of the books NLP – Neuro-linguistic Programming Demythologised and Parto allios (a very greek expression, one of its meanings being "think how you think and think it over").
---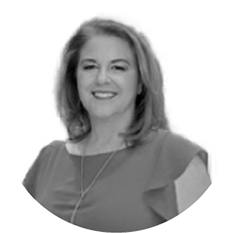 Maria is a certified career & life coach and a trainer, who supports people to achieve competitive advantages in the workplace along with balancing their professional and personal lives.
She is a talented and results-oriented professional with a 20-year thriving career path in leading multinational companies as head of PR & marketing.
With her role as a coach, she supports people around the world to find success, balance, and fulfillment.
Maria's executive profile is directly linked to many achievements within the corporate environment, such as Accenture, Club Med, TUI, and more.
In 2008 she started her own PR Company setting herself as a top brand awareness builder via many of the case studies of her well-established clientele.
As a Career & Life Coach, Maria inspires change & empowers people to improve their lives and become their best selves. She helps people achieve their career goals and work-life balance, so that they can lead a fulfilling life.
As a coach, she has been trained in the US by Tony Robbins, Jack Canfield and Brendon Buchard, and she has successfully completed her studies in 2 accredited coaching schools.
She holds a Bachelor in Economics from Piraeus University and has been certified and is a member of the UK CIPR.
Maria is a highly active individual who opts for continuous training. She knows to smile herself through life by travelling around the world to discover new challenges, set new goals, adopt new visions, all aligned with her purpose in life.
The Adventure fees are all-inclusive 1 and cover the following:
Luxury hotel accommodation 2
4-Day Premium Cruise to the Aegean Islands
Events held at the hotel and at the premises of host organizations
Full medical and travel insurance coverage
Local transportation with VIP vans
A tablet, yours to keep, preset with all relevant Adventure content
Breakfast at the hotel, lunch and dinner at select restaurants
Admission fees for all site visits
English-speaking group leaders, guides and facilitators
Prescience personalized local gifts, T-shirts, backpacks, etc.
Daily activity updates to parents, upon request
---
1excludes inbound/outbound airfare
2fees are based on double occupancy
Certificate of Completion
Digital Badges for your participation and performance, to be shared across social networks
Credits, based on a 96-contact hour Αdventure, subject to the policy and requirements of your institution
The "Delta Report", which highlights your leadership potential and shapes your career plan
Access to our personalized "Prescience Career Advisory Services"
Access to our "Deltonian Network" of professionals, academics, peers, and like-minded leaders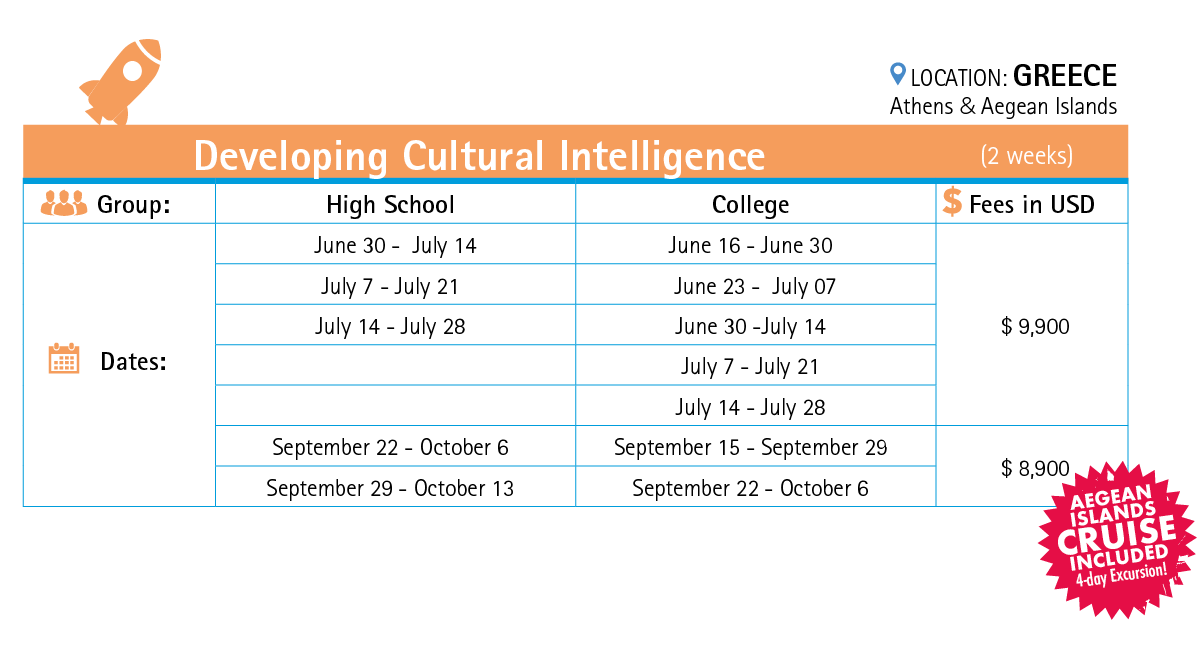 Note: Although the Prescience Adventures are the same for our high school and college participants, the delivery and emphasis is adjusted to reflect the objectives of our participants. High School and College participants form different and distinct groups which follow their own itinerary.
At the high school level, studying abroad indicates independence, motivation, and a desire to have new experiences and meet new people. For our high school participants, Prescience Adventures are geared more towards gaining new skills and knowledge with the potential to shape their individual goals and directions. High School participants learn about topics of interest to them, while at the same time are immersed in the culture of the country they are visiting and having FUN! This experience will strengthen their college applications; but even if their path after high school leads to travel, the military or joining the workforce, the Prescience Adventures will provide them with the confidence and global perspective that will benefit them in any future endeavor.
While the cultural immersion component is still strong, for our college level participants, there is more of an emphasis on what overseas study can do for their CAREER progression. The locations and curriculum for the Prescience Adventures are specifically tailored to the issues and objectives reflected in the Adventure. College level participants learn how to navigate uncertainty, maximize opportunity, and pursue the career and life they want. In other words, they learn how to make "work" work for them.
To Join this Adventure:
Select your Age Group
Select the available Dates
Pay the Deposit
Group
College
High School
Dates
Period 1 (Jun 16 - Jun 30)
Period 2 (Jun 23 - Jul 07)
Period 3 (Jun 30 - Jul 14)
Period 4 (Jul 07 - Jul 21)
Period 5 (Jul 14 - Jul 28)
Period 6 (Sep 15 - Sep 29)
Period 7 (Sep 22 - Oct 06)
Period 8 (Sep 29 - Oct 13)
Clear selection