by in Discovering Hellenic Heritage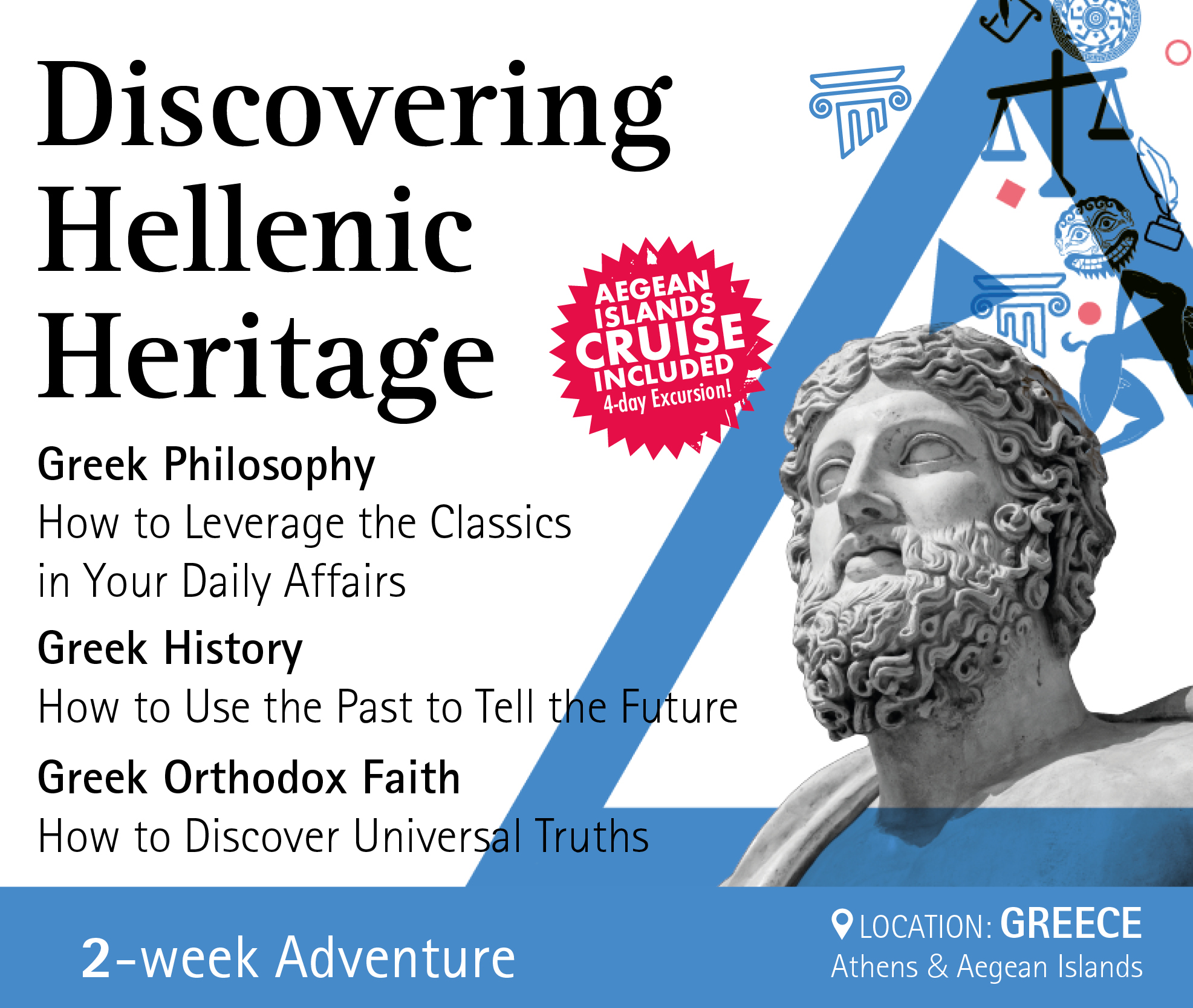 Discovering
Hellenic
Heritage
Discover Hellenic Heritage through philosophy, history and faith.
We start from the founding fathers of Greek philosophy, then move to key moments in Greece's history and their impact, and end with a look at the Orthodox Faith that has not only shaped the nation, but also rescued its identity during dark times.
This Adventure encourages you to understand your own journey in life, to learn from history and introduces you to Orthodoxy in its purest form.
Upon arrival at the airport, our team will be there to greet you and welcome you to mythical Greece. You will attend the Welcome Reception and Orientation, which will officially signal the beginning of your two-week Adventure.
During the next seven days, you will attend interactive lectures, engage in vibrant discussions, meet inspiring instructors and special guests, and visit unique sites. Combining hands-on learning and cultural immersion, this learning experience will challenge your mind and introduce you to a new way of thinking.
In the following four days, you will embark on a cruise and explore the Aegean Archipelago, visiting six majestic islands. During this time, you will work on your group projects while having fun under the Greek sun, traveling turquoise waters, lapping against white sandy beaches.
Upon your return to Athens, you will experience "Athens' City Beat". Take your time to appreciate this modern metropolis which lives the moment and delights your senses.
Your Adventure concludes with the "Pitch Session". During this session, you will present your projects, gain valuable feedback, and receive your Delta Report, that highlights your leadership potential and sketch your career path.
In the end, we collectively gather our thoughts, reflect on the experiences we lived, and realize that we have taken yet another step on the journey to becoming citizens of the world.
Greek Philosophy
How to Leverage the Classics In Your Daily Affairs
Philosophy has always been the starting point when looking for answers.
This truly didactic Adventure will give you tangible points of reference, connected to core philosophical roots. It will allow you to challenge your daily routines and help you pose the "right" questions.
This treasure of knowledge will prevent you from being consumed by daily routines, and instead, help you assume a vantage point to improve your life.
Topics to be explored:
Origins and Significance of Greek Philosophy
Socrates
Plato
Aristotle
Practical Applications of Greek Philosophy in Everyday Life
Key sites to be visited:
Acropolis & the Acropolis Museum
Plato's Academy
Aristotle's Lyceum
Pnyx Hill
Ancient Agora
Athenian Trilogy: The University – The Academy -The Library
Greek History
How to Use the Past to Tell the Future
What if the Greeks had lost the battle of Marathon?
What if Alexander the Great had not invaded India?
Through the exploration of Greek historical events, we look back into Greek antiquity and understand the making of the modern world and ask questions about its future.
Topics to be explored:
Classical Period
Hellenistic Period
Byzantine Period
Ottoman Occupation Period and the War for Independence
Twentieth Century
Key sites to be visited:
National Archaeological Museum
Panathenaic Stadium
Cape Sounion; Temple of Poseidon
Marathon Temple; Marathon Museum
War Museum
Greek Parliament; Old Parliament
Greek Orthodox Faith
How to Discover Universal Truths
Embark on a journey that traces the evolution of the Greek Orthodox Faith.
Starting with Early Christianity, we will make selective stops and assess its role in the Byzantine Empire, the Greek War for Independence, and at the end, investigate its position in modern day society.
This Adventure will touch on History, Art, and the Orthodox Doctrine.
Topics to be explored:
Orthodox Symbolism
Orthodox Art
Orthodox Dogma
Orthodox History
Orthodox Organizations
Key sites to be visited:
Christian & Byzantine Museum
Areios Pagos Hill; St. Demetrios Loumbardiaris
Kapnikarea Byzantine Church; the Athens Cathedral – Annunciation; St. Irene – the First Cathedral
Daphni Monastery (Imperial Art in a Provincial Environment)
Petraki Monastery (The Official Seat of the Holy Synod)
Aegean Islands Paradise
Like No Other
Embark on a journey of a lifetime as you cruise along emerald waters visiting enchanting destinations and watch iconic postcard images come to life. Swirling windmills, striking cliffs, and legendary ancient cities greet you at every destination.
During the four-day cruise, which is included in the Adventures in Greece, you will also be able to work on and finalize your group assignment while visiting related sites at six breathtaking islands, each with its own rich history and distinctive culture.
Athens City Beat
A Must-Live Experience
Athens, so old, yet so fresh! Athens has always been voted as one of the most exciting places to visit worldwide. Besides its awe-inspiring historical nature, the capital is brimming with creative energy, as a new wave of artists and entrepreneurs are reinventing the city.
Key sites to be visited:
Historical city center: Plaka, Monastiraki, Psyri, Thission
Athens Riviera
Odeon of Herodes Atticus, the prime location of the world-renowned Athens Festival; witnessing a performance here is an unforgettable experience.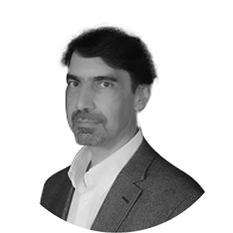 With degrees from the University of Cambridge (DES) and the University of London (BA Honours), Antonis has had considerable experience (since 1983) in training young adults and professionals. A former teacher at the British Council in Athens where he tutored students studying towards the University of London External BA in English, he has extensive experience in teaching Literature, Theory and Philosophy.
Antonis has also instructed diplomats and members of Diplomatic missions to Athens as well as candidates preparing for the Hellenic Ministry of Foreign Affairs examinations for the Diplomatic Corps. Furthermore, he has taught English and Theory of Knowledge for the International Baccalaureate (IB) and served as a moderator and examiner since 2003. He has taught Business English and prepared students for the Certificates in English for International Business and Trade, CEIBT and the Cambridge BEC. He is also a playwright A Slight Absence, Epsilon/Theatre).
---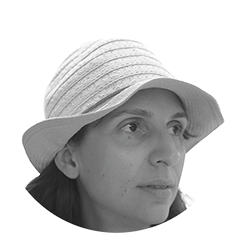 Lenia has a BA (Hons) in Archaeology and Art History from the University of Athens, Greece, where she focused on modules that explored modern Greek art. She completed her MLitt in Art History at the University of St Andrews and received her PhD from the same institution in 2009.
She has taught at the University of St Andrews and the University of Dundee offering courses that cover various aspects and themes of art history from the Renaissance to the twenty-first century, such as mythology in arts, portraiture and classicism. Lenia was a Neil Macgregor scholar at the National Gallery, London, doing research for the National Inventory Research Project, and has participated in a number of archaeological excavations in Greece.
Lenia's primary research concern is the reception and adaption of Classical Greek and Roman art in later cultures. Her doctoral thesis deals with the appropriation of antiquity in fourteenth-century Italy. She is also interested in Italo-Byzantine artistic contacts and has published articles on the influence of Byzantine iconographic types of the Virgin and Child in Italian painting.
Lenia's other research interests include the Grand Tour and the travels by the British in the eighteenth century to Italy and Greece, and the collections produced from them.
---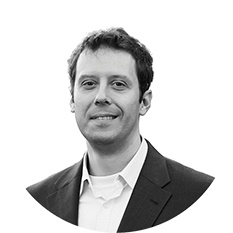 Kostas completed his undergraduate studies in Byzantine and Modern Greek Philology at the University of Cyprus, and then read for a Master of Letters in Late Roman, Early Medieval and Byzantine Studies at the University of St Andrews. After he had completed his military service in the Greek Army, he returned to St Andrews to play some more golf, but also to pursue further research on the Byzantine chronicle tradition, focusing on the text of the Synopsis Chronike, for which he was awarded his PhD in Byzantine Studies. He is currently at the University of St Andrews.
He has taught at the University of St Andrews and Queen's University, Belfast, covering topics ranging from the history of the Byzantine Empire and Medieval Europe and Middle East, to the Crusades and themes of religious and ecclesiastical history. He has also taught Classical Greek and Modern Greek to foreigners. His research is mainly focused on the tradition of Byzantine Historiography (inter-textuality, narrative structure and literariness of the texts), the period of Late Antiquity and the 'clash of civilizations' at the time of the Crusades, as well as the use of History in computer games. Research for the latter has proven particularly arduous.
---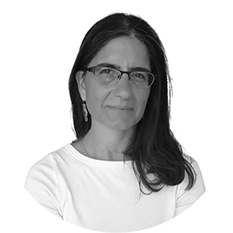 Vassileia was born in Athens, her parents originating from Urla in Asia Minor. She attended the Medical School of the National and Kapodistrian University in Athens. Eventually preferring communications to medicine, she enhanced her studies in Greek universities as well as in other institutional organizations of the private and public sector e.g. planning & analysis of public policy, insurance and finance, communications, public relations, human resources management, media, finance and development, legal and accounting-taxation issues, advertising, security, quality and accreditation issues, protection and utilization of archives, Greek paleography, bioethics and Greek culture.
Her professional career in the public and private sector includes: team empowerment; culture management; communication strategy and tactics; media relations; text writing and editing; radio broadcasts; international public affairs; human resources management; negotiating legal contracts; structure of cultural nonprofit organizations; organization of public events; fund raising strategies and tactics; and strategic advocacy.
Vassileia is a keynote speaker, article writer and professional trainer, speaking English, French and Spanish. She is the mother of one daughter, and resides in Athens.
The Αdventure fees are all-inclusive 1 and cover the following:
Luxury hotel accommodation 2
4-Day Premium Cruise to the Aegean Islands
Events held at the hotel and at the premises of host organizations
Full medical and travel insurance coverage
Local transportation with VIP vans
A tablet, yours to keep, preset with all relevant Αdventure content
Breakfast at the hotel, lunch and dinner at select restaurants
Admission fees for all site visits
English-speaking group leaders, guides and facilitators
Prescience merchandise personalized local gifts, T-shirts, backpacks, etc.
Daily activity updates to parents, upon request
---
1excludes inbound/outbound airfare
2fees are based on double occupancy
Certificate of Completion
Digital Badges for your participation and performance, to be shared across social networks
Credits, based on a 96-contact hour Αdventure, subject to the policy and requirements of your institution
The "Delta Report", which highlights your leadership potential and shapes your career plan
Access to our personalized "Prescience Career Advisory Services"
Access to our "Deltonian Network" of professionals, academics, peers, and like-minded leaders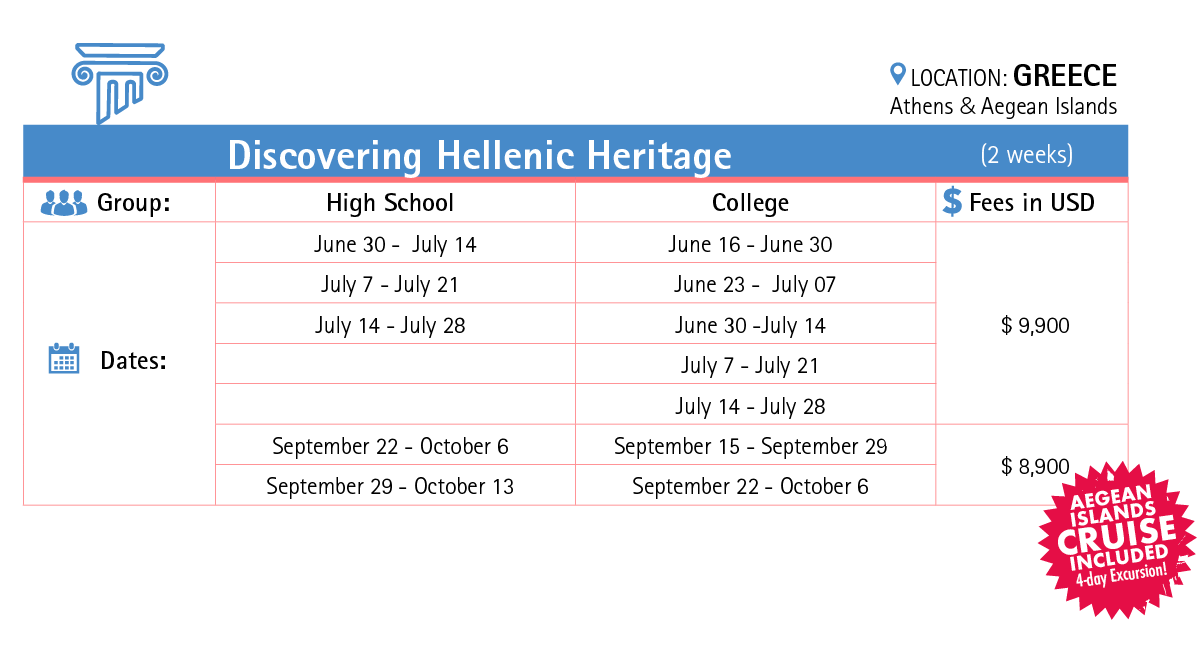 Note: Although the Prescience Adventures are the same for our high school and college participants, the delivery and emphasis is adjusted to reflect the objectives of our participants. High School and College participants form different and distinct groups which follow their own itinerary.
At the high school level, studying abroad indicates independence, motivation, and a desire to have new experiences and meet new people. For our high school participants, Prescience Adventures are geared more towards gaining new skills and knowledge with the potential to shape their individual goals and directions. High School participants learn about topics of interest to them, while at the same time are immersed in the culture of the country they are visiting and having FUN! This experience will strengthen their college applications; but even if their path after high school leads to travel, the military or joining the workforce, the Prescience Adventures will provide them with the confidence and global perspective that will benefit them in any future endeavor.
While the cultural immersion component is still strong, for our college level participants, there is more of an emphasis on what overseas study can do for their CAREER progression. The locations and curriculum for the Prescience Adventures are specifically tailored to the issues and objectives reflected in the Adventure. College level participants learn how to navigate uncertainty, maximize opportunity, and pursue the career and life they want. In other words, they learn how to make "work" work for them.
To Join this Adventure:
Select your Age Group
Select the available Dates
Pay the Deposit
Group
College
High School
Dates
Period 1 (Jun 16 - Jun 30)
Period 2 (Jun 23 - Jul 07)
Period 3 (Jun 30 - Jul 14)
Period 4 (Jul 07 - Jul 21)
Period 5 (Jul 14 - Jul 28)
Period 6 (Sep 15 - Sep 29)
Period 7 (Sep 22 - Oct 06)
Period 8 (Sep 29 - Oct 13)
Clear selection