by in Driving your New Venture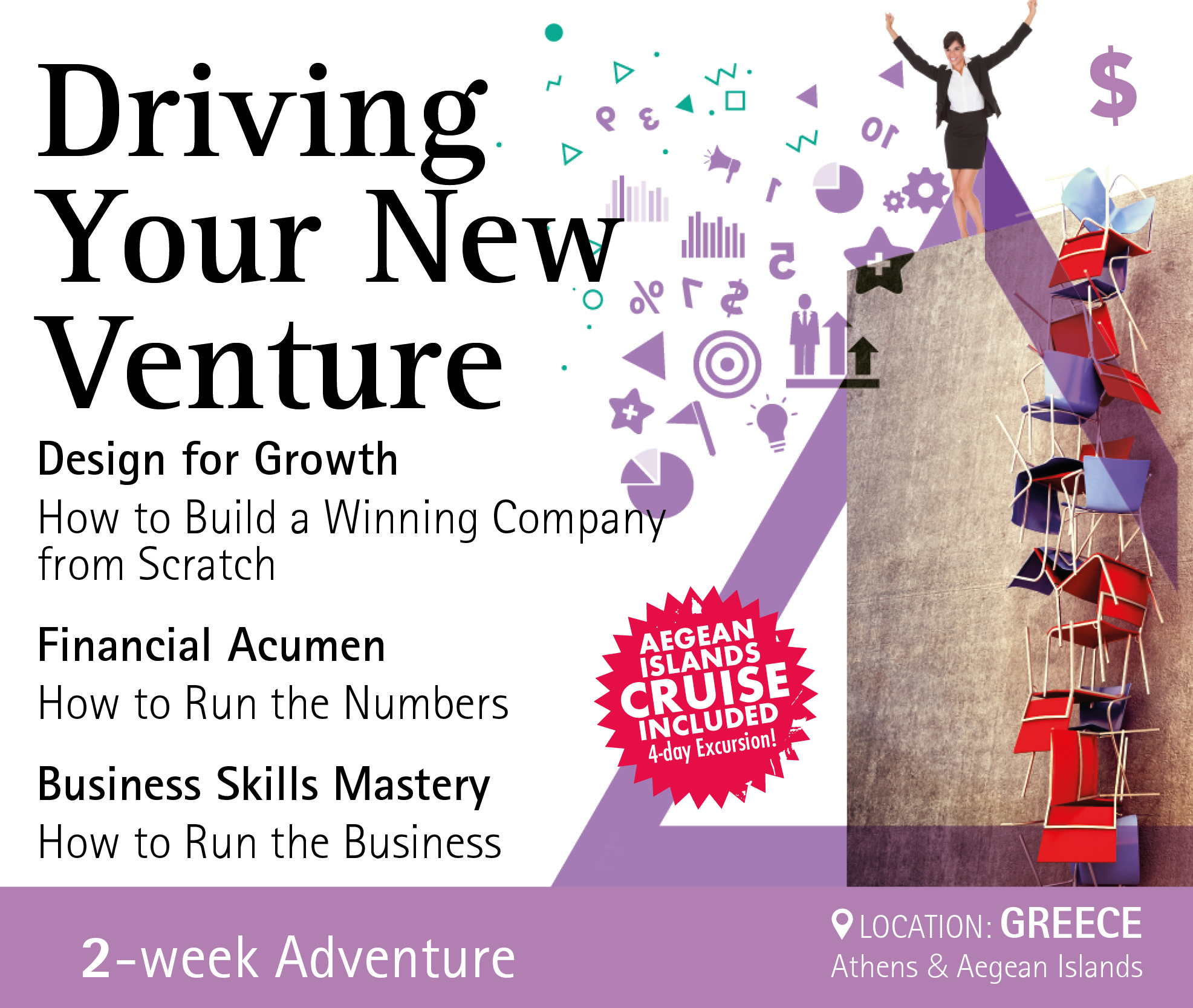 Are you business savvy?
Whether you want to start your own business or be part of someone else's, this Adventure will kit you up to make it happen.
It will definitely be your first step into the real business world.
Upon arrival at the airport, our team will be there to greet you and welcome you to mythical Greece. You will attend the Welcome Reception and Orientation, which will officially signal the beginning of your two-week Adventure.
During the next seven days, you will attend interactive lectures, engage in vibrant discussions, meet inspiring instructors and special guests, and visit unique sites. Combining hands-on learning and cultural immersion, this learning experience will challenge your mind and introduce you to a new way of thinking.
In the following four days, you will embark on a cruise and explore the Aegean Archipelago, visiting six majestic islands. During this time, you will work on your group projects while having fun under the Greek sun, traveling turquoise waters, lapping against white sandy beaches.
Upon your return to Athens, you will experience "Athens' City Beat". Take your time to appreciate this modern metropolis which lives the moment and delights your senses.
Your Adventure concludes with the "Pitch Session". During this session, you will present your projects, gain valuable feedback, and receive your Delta Report, that highlights your leadership potential and sketch your career path.
In the end, we collectively gather our thoughts, reflect on the experiences we lived, and realize that we have taken yet another step on the journey to becoming citizens of the world.
Design for Growth
How to Build a Winning Company from Scratch
How does one come up with the idea behind a start-up?
This Adventure takes you through a process of business ideation, to canvassing the business model, to setting up a company.
Exciting workshops will provide you with the necessary toolkits for thinking, starting, growing and harvesting a real business. Special attention will be given to Greece's Top Industries: Shipping, Tourism, and AgroBusiness.
Topics to be explored:
Creating Products & Services Customers Really Want

Entrepreneurial Mindset Assessment

Idea & Business Model Testing

Financial Plan & Raising Capital

Branding & Customer Acquisition
Key sites to be visited:
Shipping Company and the Piraeus Maritime Cluster

Leading Tour Operator and the Ministry of Tourism

AgroBusiness Company

Acropolis & the Acropolis Museum
Financial Acumen
How to Run the Numbers
Is being on top of the numbers puzzling you?
Discover and apply the shortcuts for building and maintaining a company's financial health.
Becoming financially literate will help you understand how internal and external factors can help you shape a company's survival and growth.
Topics to be explored:
Understanding Financial Terminology, Principles and Concepts
Understanding the "Art" of Numbers
Understanding the "Big Picture"
How to Use the Numbers for your Company to Succeed
Key sites to be visited:
Private Equity / Venture Capital Company
Global Financial Consulting Company
Numismatic Museum
Business Skills Mastery
How to Run the Business
The good news is that business skills can be learned and practiced.
Assume the role of the Chief Executive Officer (CEO) and learn how to run a company.
Responsibilities such as staffing a company, acquiring physical, technical and financial resources, setting realistic objectives as well as strategies to achieve them, and "manipulating" your external environment are all essential elements of the CEO role.
Topics to be explored:
How Companies Work

How Finance Works

How Marketing Works

How Operations and Production Work

How Technology Works
Key sites to be visited:
Management Consulting Company

Pharmaceutical Company

Financial institution

Gaming Technology Company

Telecommunications Company
Aegean Islands Paradise
Like No Other
Embark on a journey of a lifetime as you cruise along emerald waters visiting enchanting destinations and watch iconic postcard images come to life. Swirling windmills, striking cliffs, and legendary ancient cities greet you at every destination.
During the four-day cruise, which is included in the Adventures in Greece, you will also be able to work on and finalize your group assignment while visiting related sites at six breathtaking islands, each with its own rich history and distinctive culture.
Athens City Beat
A Must-Live Experience
Athens, so old, yet so fresh! Athens has always been voted as one of the most exciting places to visit worldwide. Besides its awe-inspiring historical nature, the capital is brimming with creative energy, as a new wave of artists and entrepreneurs are reinventing the city.
Key sites to be visited:
Historical city center: Plaka, Monastiraki, Psyri, Thission

Athens Riviera

Odeon of Herodes Atticus, the prime location of the world-renowned Athens Festival; witnessing a performance here is an unforgettable experience.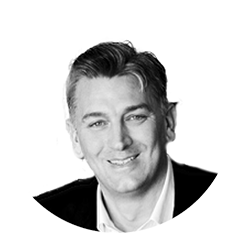 Alex is a top-performing senior executive with a proven track record in more than 35 countries. His experience extends in leading and motivating international and multicultural teams and driving international business development, market expansion, and long-term revenue growth. Very successful at entering challenging markets, building high level contacts, and establishing brand presence.
Alex is a recognized communicator and leader with tested negotiation skills and a solid background of international contracting, tax and finance. His highly diverse background provides the unique advantage to anticipate, understand and communicate across cultures in real-time. A convert from technical operations leadership, which enables a sweet spot when driving consultative tech deals and communicating with operations people
---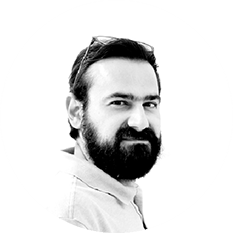 Yannis, holds a Ph.D. in Finance from the University of Manchester, a M.Sc. in Accounting and Finance from the University of Essex and a BSc. from the Athens University of Economics and Business, in Greece. He has extensive teaching experience through delivering academic modules both in Private and Public Academic Institutes in both undergraduate and post graduate levels.
He is the co-founder, President of the Board and CFO of Social Enterprise knowl (S.E. knowl) for Education and Lifelong Learning, with a strong portfolio in the development and delivery of innovative educational material in diverse fields, with an emphasis in entrepreneurial education. He is a member of the Institutional Intervention Committee of the Hellenic Association of Young Entrepreneurs, and an expert in social economy and social entrepreneurship. He acts as Educational Expert Consultant in the design, development and implementation of educational (web)seminars, bootcamps, e-platforms in both professional and academic contexts. He has offered his academic and coordination expertise in the implementation and scientific validation of over 20+ EC co-funded projects on vocational educational training and employment.
He is also the Program Leader of the awarded Mellon Skills Accelerator (with support of Stavros Niarchos Foundation) that develops and accelerates professional skills, finding people employment.
His current research interest is focused on the field of Behavioral Finance, with emphasis on behavioral entrepreneurship
---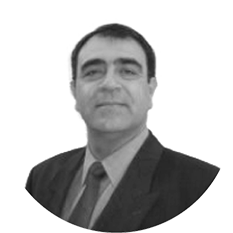 Nabil is a holder of a Bachelor of Business Administration degree from the University of Denver, Colorado, USA and a Master of Business Administration degree from the University of La Verne, Athens, Greece. He is a Certified Member at the Economic Chamber of Greece and is authorized to sign annual financial statements (Licensed Accountant A' class). He is also a member at the Hellenic Institute of Internal Auditors (HIIA – Chapter IIA) and a CIA candidate.
He started his career in 1982 in the shipping industry as a Financial Director and later as a General Manager. After 14 years of service he joined the health industry as a Financial & Administrative Director. Three years later he joined the Telecom industry performing financial planning, budgeting, reporting, and internal control. He was an Integral member of a highly-qualified team charged with devising and deploying strategic business plans to launch a new chain of 25 high tech stores.
In 2001, he joined the advertising industry where he served as a Financial Manager directing a broad range of financial operations and later on as a Financial & Administrative Director, south-eastern Europe. In 2015, before becoming as an independent consultant and business advisor, he was an internal auditor in a major public sector company for more than two years.
His teaching experience includes consulting and instructing young entrepreneurs in the areas of management, business administration, marketing and entrepreneurship. He has also taught and supported the young and the unemployed for integration and re-entry into the labor market. Nabil is married, with two daughters and he holds two nationalities and speaks three languages.
The Adventure fees are all-inclusive 1 and cover the following:
Luxury hotel accommodation 2
4-Day Premium Cruise to the Aegean Islands
Events held at the hotel and at the premises of host organizations
Full medical and travel insurance coverage
Local transportation with VIP vans
A tablet, yours to keep, preset with all relevant Adventure content
Breakfast at the hotel, lunch and dinner at select restaurants
Admission fees for all site visits
English-speaking group leaders, guides and facilitators
Prescience personalized local gifts, T-shirts, backpacks, etc.
Daily activity updates to parents, upon request
---
1excludes inbound/outbound airfare
2fees are based on double occupancy
Certificate of Completion
Digital Badges for your participation and performance, to be shared across social networks
Credits, based on a 96-contact hour Αdventure, subject to the policy and requirements of your institution
The "Delta Report", which highlights your leadership potential and shapes your career plan
Access to our personalized "Prescience Career Advisory Services"
Access to our "Deltonian Network" of professionals, academics, peers, and like-minded leaders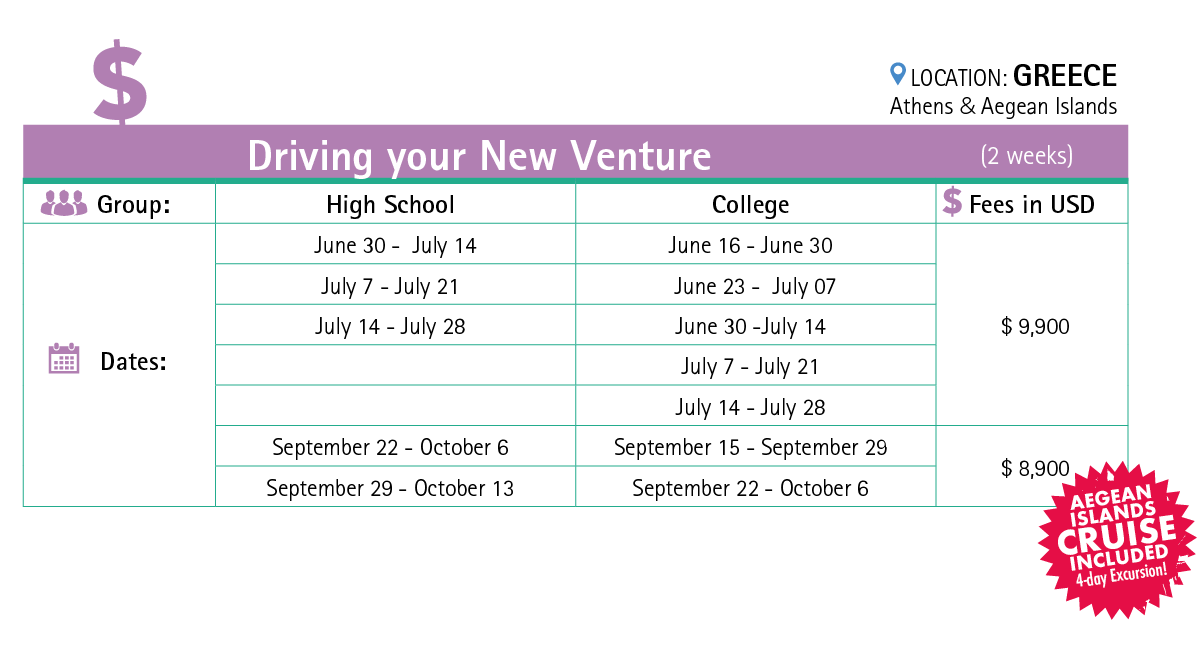 Note: Although the Prescience Adventures are the same for our high school and college participants, the delivery and emphasis is adjusted to reflect the objectives of our participants. High School and College participants form different and distinct groups which follow their own itinerary.
At the high school level, studying abroad indicates independence, motivation, and a desire to have new experiences and meet new people. For our high school participants, Prescience Adventures are geared more towards gaining new skills and knowledge with the potential to shape their individual goals and directions. High School participants learn about topics of interest to them, while at the same time are immersed in the culture of the country they are visiting and having FUN! This experience will strengthen their college applications; but even if their path after high school leads to travel, the military or joining the workforce, the Prescience Adventures will provide them with the confidence and global perspective that will benefit them in any future endeavor.
While the cultural immersion component is still strong, for our college level participants, there is more of an emphasis on what overseas study can do for their CAREER progression. The locations and curriculum for the Prescience Adventures are specifically tailored to the issues and objectives reflected in the Adventure. College level participants learn how to navigate uncertainty, maximize opportunity, and pursue the career and life they want. In other words, they learn how to make "work" work for them.
To Join this Adventure:
Select your Age Group
Select the available Dates
Pay the Deposit
Group
College
High School
Dates
Period 1 (Jun 16 - Jun 30)
Period 2 (Jun 23 - Jul 07)
Period 3 (Jun 30 - Jul 14)
Period 4 (Jul 07 - Jul 21)
Period 5 (Jul 14 - Jul 28)
Period 6 (Sep 15 - Sep 29)
Period 7 (Sep 22 - Oct 06)
Period 8 (Sep 29 - Oct 13)
Clear selection